We know not every day is comfortable as you move through your cycle.
Cramps and heavy bleeding can ruin your day, and we believe you don't have to be in pain just because you're a woman.

We created the Guud Vibes + Guud Inside bundle because no one should be held back by their cycle.
Guud Vibes is packed with mighty magnesium to help maintain muscle and psychological function. Combined with Vitamin B6, magnesium helps to reduce tiredness and fatigue, which can be crucial when you're left feeling worn down at certain times in your cycle.
Guud Inside contains sustainable omega-3, which helps maintain heart and brain function whilst providing the healthy fats you need to regulate female hormones.

Ingredients:
Guud Insdie: Helps maintain healthy heart & brain
Guud VIbes: Helps fight fatigue & maintain your energy
| Ingredient | Amount per serving | Daily Value |
| --- | --- | --- |
| DHA | 300 mg | - |
| EPA | 150 mg | - |
| Magnesium | 260 mg | 69,34% |
| Vitamin B6 | 4 mg | 285,72% |
Other ingredients:
Guud Inside: DHA and EPA rich oil from the microalgae Schizochytrium sp., hydroxypropyl methylcellulose (shell), Helianthus annuus (sunflower oil), water, Rosemary extract (aroma), Tocopherol-rich extract (antioxidant), Ascorbyl palmitate (antioxidant)

Guud Vibes: Magnesium Bisglycinate, Magnesium Citrate, Aquamin Mg Tg (Magnesium Hydroxide), Hydroxypropyl Methylcellulose (Shell), Magnesium Oxide, Rice Starch, Glyceryl Dibehenate (Anti-Caking Agent), Oryza sativa L. (Rice Concentrate), Vitamin B6 (Pyridoxal-5-Phosphate)
Speak to one of our trusted experts
We are real people, not chat robots We take the time to listen to you and support you where needed We are live on weekdays between 09:00 and 18:00 Afterwards we reply via e-mail
reviews
This product is rated 4.8 out of 5 stars.
We have collected more than 35 Reviews.
write a review
Key Benefits
The perfect combination to support your energy & menstrual cycle
100% planted-based & sustainable
Support your hormonal balance
Contains high quality and easily absorbable magnesium
Helps fight fatigue
Omega-3 from algae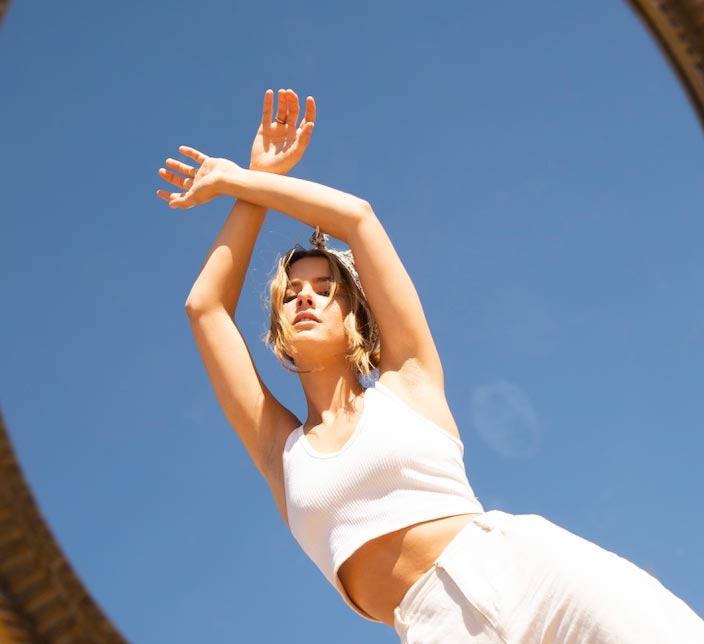 How to use
Guud Inside: Take two capsules daily after dinner Guud Vibes: Take two capsules daily after dinne
Suitable for use during pregnancy & lactation
The supplements are not a replacement for a varied diet
For best results, take daily for 3 - 6 months
Our Guud Vibes capsules contain magnesium derived from algae (Aquamin), and magnesium citrate and bisglycinate Magnesium is often sold as magnesium oxide, which can be difficult to absorb into the body, causing gastrointestinal problems for many people

Using magnesium citrate and magnesium bisglycinate (organically bound magnesium forms) means better absorption in the body and better results. Plus, it avoids the annoying side effects of gastrointestinal problems Magnesium Citrate and Bisglycinate is found in high-quality magnesium supplements
Our supplements are created with research-informed ingredient combinations, scientifically proven to tackle the hormone-related complaints many women face

Through taking our supplements, women can support their cycles in the most natural way possible

To maximise our supplement superpowers, we recommend taking them in conjunction with a healthy lifestyle: a varied diet, stress-busting routines, exercise, low/no alcohol, and lots of laughter
Ideally yes We recommend that you take your supplements with a meal, and not on an empty stomach Swallow them with water and not with coffee
Some vitamins and minerals are less well absorbed by the body when you take them with coffee

They are made in Belgium (EU) and approved by the FAVV
Our supplements are as natural as possible We use Hydroxypropyl methylcellulose (HPMC) for our capsules instead of (bovine) gelatin Hydroxypropyl cellulose is derived from wood cellulose
In many dietary supplements you will find silicon dioxide, magnesium stearate and titanium dioxide These substances are used to better fill the capsules and to whiten the capsules We do not use silicon and titanium dioxide because EFSA (European Food & Safety Agency) no longer considers these substances safe due to negative influence on the genetic material (genotoxicity)
By using rice concentrate, rice starch and transparent HPMC capsules, we offer a natural alternative
Thats why you will find very few additives in our products!

The supplements have been formulated to ensure you don't consume too much of one ingredient, meaning they're safe to take together
All our supplements are free from gluten, wheat and lactose and are suitable for vegans They don't contain added sugar, preservatives or artificial colourings